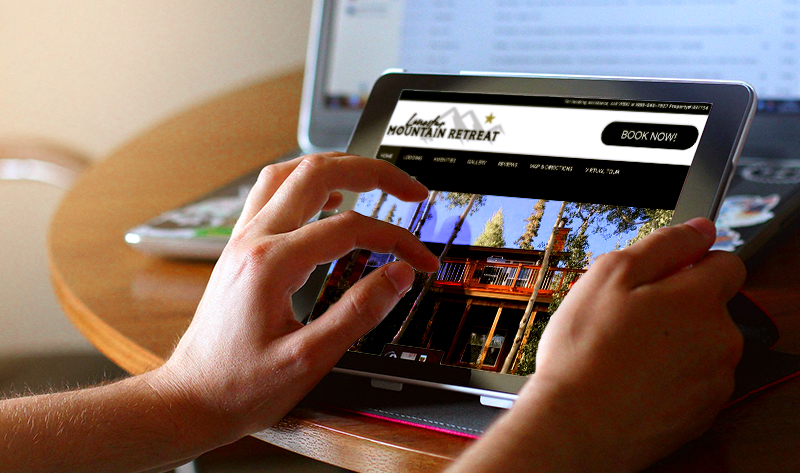 You've got the awesome vacation rental in the perfect spot. Now you need the renters. As a vacation rental owner, gaining access to your available customer base is key to your success. To realize the full potential of your investment you must effectively target your widest audience. At Camden Scott Properties, we understand where you are because we've been in your shoes. We're vacation rental owners ourselves. We also understand what it takes to successfully market in the digital age because digital marketing is our day job. We help small businesses connect with their customers and grow their brands using smart search engine optimization (SEO) strategies and custom tailored branding efforts. We combined our digital marketing expertise with the real life knowledge we've gained marketing our own vacation rentals in order to design a marketing platform fully attuned to the needs of the vacation rental owner.
Show Up Well Online And Renters Will Show Up At Your Door
Success in the vacation rental business is predicated on a clearly thought-out and expertly executed virtual experience. Consider the following:
customer demand is captured through the effective presentation of your property in a digital format
customer expectations are set by what they see and read about your property online
most, if not all, of your customer interaction will take place electronically
establishing and maintaining a solid online reputation is critical to your success
The Freedom To Control Your Marketing
Vacation rental owners are a diverse group. Some of us make our living in this industry, others maintain vacation rentals to supplement income, diversify assets, grow equity and/or pay the mortgage on a future second or retirement home. Regardless of our motivation for getting into the industry, all of us need an effective, efficient way to attract and service our customers online.
Large short-term rental marketing platforms like VRBO and AirBnB are viable platforms for promoting your property, but they do carry hefty fees (for the property owners and the renters) and are crowded with competitors. What's more, these sites have some cumbersome requirements and there are limitations on what can be advertised. Additionally, many vacation renters become repeat customers. Having a system in place to capture their repeat business outside of the larger platforms can save both the owner and the renter money. Finally, some vacation rental owners operate with just a small window of availability. In their case, the cost of marketing on one of the larger platforms simply doesn't pay off. In each of these scenarios, the ability to have an affordable, fully-customized website to showcase the property, capture renters and receive and respond to customer reviews makes sense. It gives the property owner the freedom to market as they see fit, without limitations and the distraction of nearby competitors.
Services Tailored to the Vacation Rental Owner
To support our vacation rental clientele, we've pulled together the tools and services necessary for success and coupled these with proven guidance you can rely on. Our services include:
professional website design
website hosting
domain registration and maintenance
search engine optimization (SEO)
competitive keyword search, content strategy and copywriting
site maintenance and actionable site analytics
company branding
drone video production
professional, branded email hosting
social media strategy
customer review/online reputation management
payment processing plug-ins and/or the ability to jump to an existing platform (i.e. VRBO or a property management company)
listing placement on the featured properties web page for incremental exposure.
Whether you are just getting started and want to get a feel for the process, or are fully established but seeking to diversify the ways in which you reach your audience, a property portal with Camden Scott Properties will ensure you reach your largest target market in order to realize your full potential. Let's get you out there with the virtual experience your investment warrants. Contact us today to get started.